'The Silver Screen Revolution' and other titles from Films Media Group now available on NJVID
Abhishek
'The Silver Screen Revolution' and other videos from Films Media Group are the latest titles digitized by NJVID team this week. The content includes topics such as alcohol effects on health, workplace technologies and more. These titles can now be licensed by any NJVID member for streaming access. The complete titles in this list are:
Hard Truths about Alcohol –  How do individual drinking habits affect health and well-

being? Divided into two segments, this program first examines the growing trend of binge drinking in women and then provides insight into the physical benefits and risks of moderate drinking. Kathleen Parks and Kate Miller of the Research Institute on Addictions define binge drinking and explain its negative consequences. Then, experts such as Dr. Peter Shields of Georgetown University discuss the health risks, like breast cancer, and the health benefits to the cardiovascular system of moderate drinking. Contains scenes of social drinking.
The Silver Screen Revolution: American Cinema 1960–1980 – Rejecting Hollywood's traditions, young American filmmakers in the 1960s forged a new cinema that held sway for two decades. This program revisits that period through detailed interviews with directors Martin Scorsese (Taxi Driver, Raging Bull) and Lee Schatzberg (The Panic in Needle Park) and production designer Dean Tavoularis (The Godfather trilogy, Apocolypse Now). Scorcese talks at length about the upheaval of the Vietnam era and the challenges of getting Mean Streets made; Schatzberg, in conjunction with legendary producer Dominick Dunne, describes how studio management changes affected Panic; and Tavoularis shares recollections from his long collaboration with Francis Ford Coppola.
The Changing Workplace: Technology and Globalization –  This video focuses on how technology has changed work, and outlines basic concepts of how and where work can happen. Students are introduced to the principles of global business and the skills essential to stay employable in a global economy.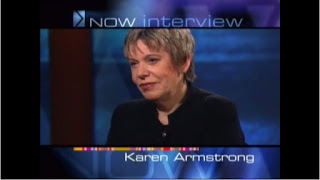 NOW with Bill Moyers: Karen Armstrong on Religious Fundamentalism –   "If you were God, would you do away with religion?" With that question, Bill Moyers launches into a discussion with Karen Armstrong, one of the world's foremost commentators on religious affairs and author of Islam: A Short History. In this program, they seek to understand the psychosocial impact of religious fundamentalism, which frequently elevates God at the expense of personal freedom. Over the course of their dialogue, they also cover the concept of sacredness, the relationship between religion and psychology, and the profound connections among the three religions of the Book—all within the context of Ms. Armstrong's own spiritual journey from disenchantment to peace.
NOW with Bill Moyers: John Esposito on the Struggles of Islam –  In this program, Bill Moyers and Georgetown University's John Esposito – author of Unholy War: Terror in the Name of Islam and editor-in-chief of The Oxford Encyclopedia of the Modern Islamic World – focus on Islam in Asia, where the vast majority of all Muslims live. The conflict within Islamic countries among religious fundamentalists, radical extremists, and the moderate mainstream is considered, along with American geopolitical concerns in the war on global terrorism. Human rights abuses in Indonesia and East Timor, the operation of al Qaeda, and a distinction between holy war and jihad are examined as well. "Can we fight terrorism without it becoming a worldwide clash of cultures?" asks Moyers.